Why is My Steering Wheel Shaking?

From helpful dashboard lights to sounds and smells, your car has a lot of ways of telling you when something isn't working right. One sign that you'll notice right away is if you feel your steering wheel shaking. Honda of Abington explores what makes your steering wheel shake, so that drivers in Abington, Willow Grove, and Glenside will know what's going on with your vehicle.
Tire Problems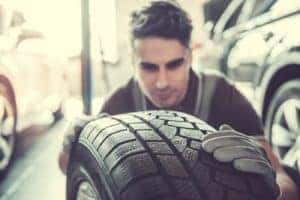 If your tires are off balance or you need to get your tires rotated, you'll probably feel some shaking in your steering wheel. Usually these vibrations can be felt when you accelerate and start to go faster than 50 MPH.
Getting your tires rotated helps the tread wear down evenly. Making sure they're balanced properly allows them to run smoothly and grip the road. So, if you feel shaking then notice that your tread isn't wearing down evenly, you'll likely need to get your tires serviced.
Misaligned Suspension
Another issue that can affect your tire tread is when your wheels and suspension aren't in alignment. The big difference between tire issues and suspension problems is that when something is misaligned, you'll usually feel your steering wheel shaking at low speeds, too. You may even pick up vibrations as soon as you step on the gas.
Wheel Bearings
Your vehicle's wheel bearings are located right where your wheels, axle, and suspension meet. If they're in good shape and lubricated properly, your wheels should spin without any resistance. When a wheel bearing is damaged or hasn't been lubricated in a while, friction can build up. This makes it more difficult for your wheels to move and causes vibrations to run directly through the axle, driveshaft, and up to the steering column.
Brake Rotors

On the other side of your wheel bearings, you'll find the brake rotors. These play an integral role in slowing your vehicle down and bringing you to a complete stop. If one of your rotors is cracked or warped, you'll likely feel it in your steering wheel.
Another issue to look out for is if one of your calipers gets stuck. On top of making your car shake, sometimes when you've got sticky brakes, you'll also smell burning rubber when you stop or accelerate.
Visit our Honda Service Center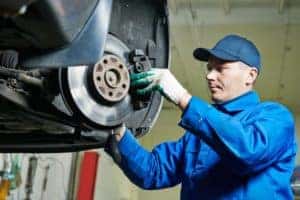 If you notice any shaking in your steering wheel, schedule service with Honda of Abington. Our service center features a team of experienced technicians who can get your tires, suspension, or brakes back in shape in no time. They'll also take care of routine maintenance like rotating your tires and balancing them.
We also help drivers in Abington, Willow Grove, and Glenside get the best performance with OEM parts and accessories. These were designed specifically for your make and model. That means they'll be the perfect fit, be more reliable, and help you stay on your recommended maintenance schedule.
Schedule service with us online if you feel any vibrations in your steering wheel or contact us to learn more about why your steering wheel is shaking.