Oil Change near Conshohocken PA

While one of our goals is to help you find the dream vehicle for your lifestyle, we also want to help you keep it running as smoothly as the day you bought it for years to come. Here at Honda of Abington, we know the best way to keep your car in premium condition is by staying on top of your routine maintenance service schedule.
One of the most important services you need to keep up with, is getting regular oil and filter changes. Now you may be wondering, where can I find an oil change near Conshohocken, PA? Well we know just the spot. Read on to find out!
Schedule your oil change online here!
When You Need an Oil Change
Before you schedule your oil change you need an idea of when it needs to be done. Basically for the average driver you'll need an oil and filter change once or twice a year, which is about every 5,000 miles.
If you drive more often and in extreme conditions like snow, sleet, rain, and mud, you're going to need it changed more often. It's best to refer to your vehicle's owner's manual in order to find out what maintenance schedule works best with your car.
Why You Need an Oil Change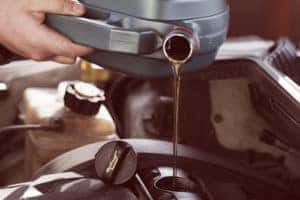 While oil changes are small jobs, they make a huge difference, because ultimately, they help keep your engine and transmission running smoothly.
The moving parts under your hood use the oil to keep themselves lubricated and working properly. Over time that oil can get filled with sludge and dirt, which then causes your parts to grind on each other and could potentially cause major damage to your engine.
When you change out that dirty oil and replace it with clean oil you're doing your engine a huge favor, and that's why it's so important to stay on top of it.
Where You Can Get an Oil Change
The highly trained technicians in our service center are prepared to help you with any of your oil changing needs. They're be happy to answer any questions you might have about the services you need, so you can feel confident about the work getting done to your vehicle.
How To Schedule an Oil Change
There's a few different ways you can schedule an oil change with our service center.
Schedule It Online
Simply fill out our Schedule Service form with your car's year, make, and model, your contact information, a brief description of the job you need done, and when, and we'll reach out with times that work for you.
We're open Monday – Thursday from 7:30 AM – 7:00 PM, Friday from 7:30 AM – 6:00 PM, and Saturday from 8:00 AM – 2:00 PM
Come On By!
Here at Honda of Abington we're dedicated to helping our drivers keep their cars healthy, running smoothly, and in premium condition, and we know that starts with your regular routine maintenance checks. For more information or to schedule your next oil change near Conshohocken, PA, call or stop by today!
Contact us online to schedule an oil change today!