Honda Pilot MPG

If you're an Abington, Willow Grove, or Glenside area driver interested in finding out what the Honda Pilot has to offer in terms of MPG, this review was put together with you in mind.
The team at Honda of Abington has compiled the following information to help you determine whether the Pilot is the SUV that can fulfill your various needs. Read on to find out and also get some fuel efficiency tips.
Do Honda Pilots Get Good Gas Mileage?
The Pilot is propelled by a 3.5L V6 engine with a 9-speed automatic transmission up to any challenges that might stand in your way while you're on the road. It generates a maximum output of 280 horsepower as well as 262 lb-ft of torque.
| | |
| --- | --- |
| Drivetrain | 2021 Honda Pilot MPG |
| 2-Wheel Drive (2WD) | EPA-estimated 20 city/27 highway MPG* |
| All-Wheel Drive (AWD) | EPA-estimated 19 city/26 highway MPG* |
What you can expect when it comes to fuel economy depends on whether you choose 2-Wheel Drive (2WD) or All-Wheel Drive (AWD). Across all 2021 Honda Pilot trim levels with 2WD, it earns an EPA-estimated 20 city/27 highway MPG.*
If you go with AWD, all 2021 Honda Pilot trims supply an EPA-estimated 19 city/26 highway MPG.*
Read all the Honda Pilot reviews here!
Fuel-Saving Honda Pilot Engine Features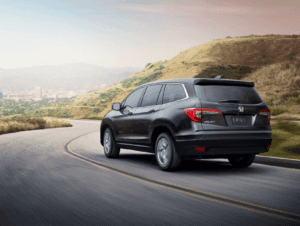 The Honda Pilot engine has a couple different fuel-saving features that come standard. These features will help you stay on the road longer and spend less time looking for a gas station.
The Pilot's engine comes equipped with an idle-stop system. When the Pilot comes to a stop for at least two seconds—at a stoplight, for example—the engine will shut off to save fuel. When you release the brake pedal, the engine resumes again. By doing this, the idle-stop system saves fuel because your engine isn't running needlessly.
If you're looking to save some extra fuel while you're on the road, you can also turn on the Eco Assist™ System. This system uses two different parts: the Driver Feedback System and ECON mode.
The Driver Feedback System has a meter that tells you how efficiently you're driving with a color on the instrument panel. ECON mode improves fuel economy by changing or limiting some energy-consuming vehicle operations. When these systems work together, you can maximize your vehicle's fuel efficiency.
The Honda Pilot's engine also has Variable Cylinder Management™. This fuel-saving system deactivates some of the cylinders to save gas depending on driving conditions. This not only saves fuel but also lowers emissions.
Advanced Honda Pilot Features
The Pilot makes use of several features sure to come in handy whenever you're behind the wheel. Many of these help out in the area of fuel economy.
Hill Start Assist is one such feature. It comes standard and kicks into action when you're ready to accelerate after being stopped on the side of an incline. As you switch your foot from the brake pedal to the gas pedal, it continues to hold the brakes to ensure you don't roll backward before the SUV begins moving again. This feature also makes sure you don't unnecessarily burn gas in the process.
Adaptive Cruise Control also comes as a standard feature in the Honda Pilot. Not only does it help with fuel efficiency by maintaining a consistent speed, but it's also able to monitor how fast the vehicle in front of you is traveling and adjust your speed accordingly.
Other useful features include the standard Lane Keeping Assist System that lets you know when you've unintentionally drifted into someone else's lane and the available remote engine start that allows you to warm up the car ahead of time if you're running late.
Fuel-Saving Tips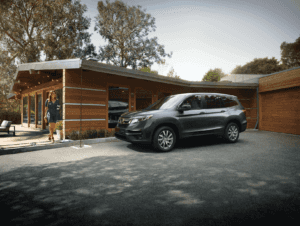 While the Honda Pilot is rather fuel efficient on its own, there are a few things you can do while you drive to improve your vehicle's fuel economy. Check out the following tips to see how to improve your fuel-efficient driving!
The first tip to improve fuel economy is to follow the speed limit. Not only will this help keep you safer, but it can also save some gas. When you drive faster—typically above 50 MPH—your vehicle uses more gas. By following the speed limit, you'll ultimately use less fuel.
Our next tip is to avoid hauling cargo on the roof. Vehicles have specific aerodynamics that impact fuel economy. When you put objects on the roof, you create drag. With this drag, it will use more gas to get your vehicle up to the same speed without having cargo on the roof.
Similarly, removing excess weight from your car can help improve gas mileage as well. If you're carrying a lot of unnecessary cargo in your vehicle, it will use more gas to drive all that stuff around than it would without it.
Another way to save fuel is to avoid idling. If you're picking up a friend or family member or waiting for a curbside order, turn off your engine to save gas. When you leave your engine turned on, you're using excess gas. How much gas you use depends on the engine size and if you're running the air conditioner. Turning off your engine will save gas while you wait.
Check Out the Honda Pilot for Yourself
As you can see, the Honda Pilot certainly has what it takes to stand up to any challenges those Abington, Willow Grove, and Glenside roadways have in store. You can get a closer look at these and other capabilities and features of the 2021 Honda Pilot by contacting our Honda of Abington team and scheduling a test drive.
Schedule a test drive online today!
* 20 city/27 highway/23 combined mpg rating for 2WD trims. 19 city/26 highway/22 combined mpg rating for AWD trims. Based on 2021 EPA mileage ratings. Use for comparison purposes only. Your mileage will vary depending on how you drive and maintain your vehicle, driving conditions and other factors.